Presentation Results?
Is the employee or investor response lacking from our leaders presentations? Is customer response lacking from our key marketers presentations ?
Results from executive or marketer presentations can be quickly improved through presentation coaching and training that focuses on making the content more relevant and the delivery more engaging. The presentation guidelines and speaking skills you learn from me come from a person who won his first speech contest at age 13. I developed training skills as an Army training officer and as an employee of General Electric where I taught GE's effective presentation course. After working with the best speakers in America for several years, I began his own speaking, training and coaching business 30 years ago.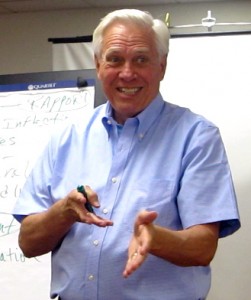 Crafting and giving marketing presentations has helped clients, and my own company, win contracts. My executive speech coaching has helped managers succeed in special situations like preparing a presentation announcing a reorganization, helped marketers develop and practice an important new product introduction, all the way to helping seekers of high political office craft and deliver a winning message. You can be assured what you learn has been field tested and proven, not an academic speech course.
For your people to know how much value you place on their development, you can say the person you hired to help them is a member of the Speaker Hall of Fame, the class of 2006 Legends of the Speaking Profession and has chaired the Arizona Speakers Lab for 10 years.
Developing an "opening" to a sales presentation, speech, targeted management communication, etc., is available on this 4 minute video set of guidelines you can view by clicking here. This video is in addition to the other video examples.
Helping the good get better and best get awesome is what I have done during 11 years of presentation coaching at the Professional Speakers Lab of the Arizona National Speakers Association. I have also helped State and National political candidates get elected.
Contact me and lets see what I can do to help your key presenters.