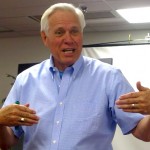 "Do any of these 8 issues worry or excite you?"
Lets talk.–Don Thoren
Conflict/Creativity?
When our smart people disagree, does their distress waste time and money or energize them to begin a collaborative search for new ideas?
more…
Presentation Results?
Is the employee or investor response lacking from our leaders presentations?   Is customer response lacking from our key marketers presentations ?
more…
Tech-Block?
Are any of our project results delayed or jeopardized by key technical contributor(s) who lack interpersonal and team building skills?
more…
Our Potential?
Are we achieving our organizational potential in areas like new product/service development, cycle time reduction, team effectiveness, cross functional coordination, sales growth, stakeholder collaboration, culture change, etc.?
more…
Ignite & Inspire?
Would an outside professional speaker challenge our people to discover new leadership possibilities and ignite creative collaboration?
more…
Sales?
Could sales improve if we provided our technically savvy sales and support people some targeted sales and negotiation training?
more…
Collaborate to Celebrate?
Are we missing improvement opportunities by not "collaborating" internally?  – or missing growth opportunities by not collaborating externally with other organizations to bid bigger projects?
more…